FREE SHIPPING for online orders Same Day shipping for most orders placed before 2PM EST
Skip to product information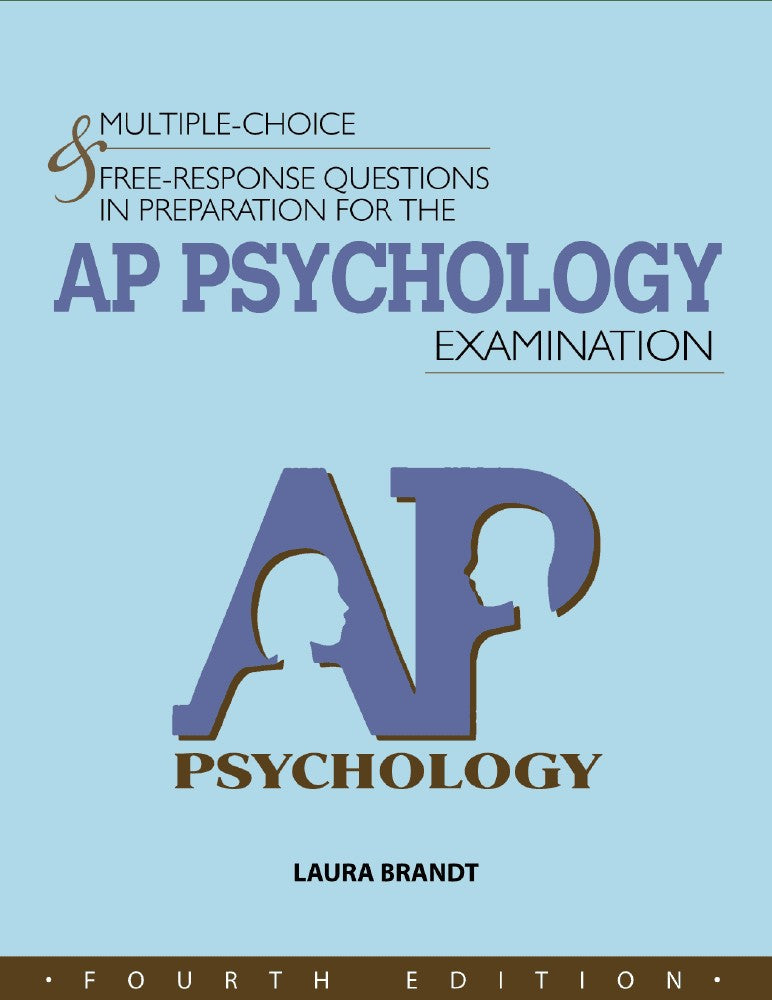 More Info

We are pleased to announce the publication of a new 4th edition of MULTIPLE-CHOICE AND FREE-RESPONSE QUESTIONS IN PREPARATION FOR THE AP PSYCHOLOGY EXAMINATION. The 4th edition book has been completely revised to align with the new Course and Exam Description released in 2019. The book is organized into the nine units outlined in the new Curriculum Framework but further broken down into 15 manageable chapters for both instructors and students. This edition also contains a completely revised text, including multiple-choice and free-response questions that align with the new curriculum. The 4th edition includes roughly 50% new questions as well as three revised and realigned full-length practice exams which are modeled after the AP exam. The unit and chapter progression of the book are as follows:

Unit 1: Scientific Foundations of Psychology
Chapter 1: Approaches to Psychology
Chapter 2: Research Methods and Statistical Analysis of Data

Unit 2: Biological Bases of Behavior
Chapter 3: Communication in the Nervous System Chapter 4: States of Consciousness

Unit 3: Sensation and Perception
Chapter 5: Sensation and Perception

Unit 4: Learning
Chapter 6: Learning Theory

Unit 5: Cognition
Chapter 7: Memory
Chapter 8: Testing and Intelligence Chapter 9: Thinking and Language

Unit 6: Developmental Psychology
Chapter 10: Development

Unit 7: Motivation, Emotion and Personality Chapter 11: Motivation, Emotion, Stress and Health

Unit 8: Clinical Psychology
Chapter 13: Abnormal Psychology Chapter 14: Treatment of Psychological Disorders

Unit 9: Social Psychology
Chapter 15: Social Psychology


Each class order is accompanied by a FREE Teacher's Manual. The Teacher's Manual includes suggested unit progressions, links between units, mnemonic devices and detailed descriptions of teaching activities and demonstrations for each chapter. The teacher's edition also contains full answer explanations for all chapter and practice AP multiple-choice questions as well as full AP style rubrics for the practice free-response questions. Additionally, separate student Answer Keys for the multiple-choice section are included with each book. This book is an extension of the earlier editions of the book created by Mike Hamilton and Michael Sullivan both of Hopkinton High School in Massachusetts. Both are winners of the Margaret Moffett award for the teaching of Psychology and have been contributors to the TOPSS Committee as well as the AP Psychology reading. Both have also served on the Test Development Committee which creates the AP Psychology Exam. Each year they host a one-day workshop, NETOP (New England Teachers of Psychology), at Hopkinton High School for high school teachers of Psychology to share activities and ideas and learn from experts in the field. Michael Sullivan also authored the Teachers Manual that accompanies the fourth edition of this text. The questions in this book simulate the actual examination. Your students will benefit from both the challenge and excellent practice this book provides, ensuring a top grade on the AP Psychology Examination. Why not give your students the edge?
Author

The author of the book, Laura Brandt, currently teaches at Libertyville High School in Libertyville, Illinois and teaches online for the Center for Talent Development at Northwestern University. She received her BA from the University of Illinois in Urbana-Champaign, an MA in U.S. History from Northern Illinois University, an MS in Psychology from DePaul University and an administrative certificate from Concordia University. Laura has conducted numerous workshops for AP Psychology teachers and served on the committee for Teachers of Psychology in Secondary Schools (TOPSS) as a member-at-large and chair. Laura has co-led the APA Clark workshop at Clark University and been recognized with the Margaret Moffett Teaching Award for the Society for the Teaching of Psychology and the TOPSS teaching award for high school teachers. In 2008, Laura was a finalist for the Illinois Teacher of the Year. Laura has attended the AP reading for many years and has held various leadership positions including Table Leader and Question Leader. She also serves as an examiner for the IB Psychology exam. Laura co-facilitates the Books for Psychology Class website (https://booksforpsychologyclass.weebly.com) which reviews psychology books for students and teachers and provides in-class activities for instructors of psychology. Additionally, Laura is one of the organizers of the i-score 5 psychology app to help students review for the AP psychology exam.
Testimonials

Here is what some of your colleagues had to say about our previous editions of the AP Psychology book:

"The book is well written and takes the confusion out of the psychological terminology. The graphic organizers are very effective."
John A. Meyer / Pago HS, Greensboro, NC "Very 'user friendly.' Students liked the explanations and the check-up quizzes for each section. The format of the sample exams is quite similar to the AP exam itself, so students fell familiar with the testing format."
Patrick Harris / San Clemente HS, San Clemente, CA "Great test questions and information."
Karen Cohen / Walled Lake Western HS, Walled Lake, MI "I liked the summary sections for each subject and the exams were also very good."
Megan Bryant / Grossmont HS, El Cajon, CA
10 BOOKS MINIMUM
SKU: ISBN #: 1-934780-56-1
| Quantity | Price per book |
| --- | --- |
| 10 - 15 books | $21.95 |
| 16 - 25 books | $20.95 |
| 26 - 50 books | $19.95 |
| over 50 books | $18.95 |
| Quantity | Price per book |
| --- | --- |
| 10 - 50 e-books | $16.50 |
| over 50 ebooks | $15.50 |
ALL E-BOOKS PURCHASED CAN BE VIEWED FOR ONE (1) YEAR FROM THE DATE THE E-BOOK ACCESS CODES ARE ACTIVATED
If you plan to use a purchase order and need an order form, please click here
View full details