FREE SHIPPING for online orders Same Day shipping for most orders placed before 2PM EST
Skip to product information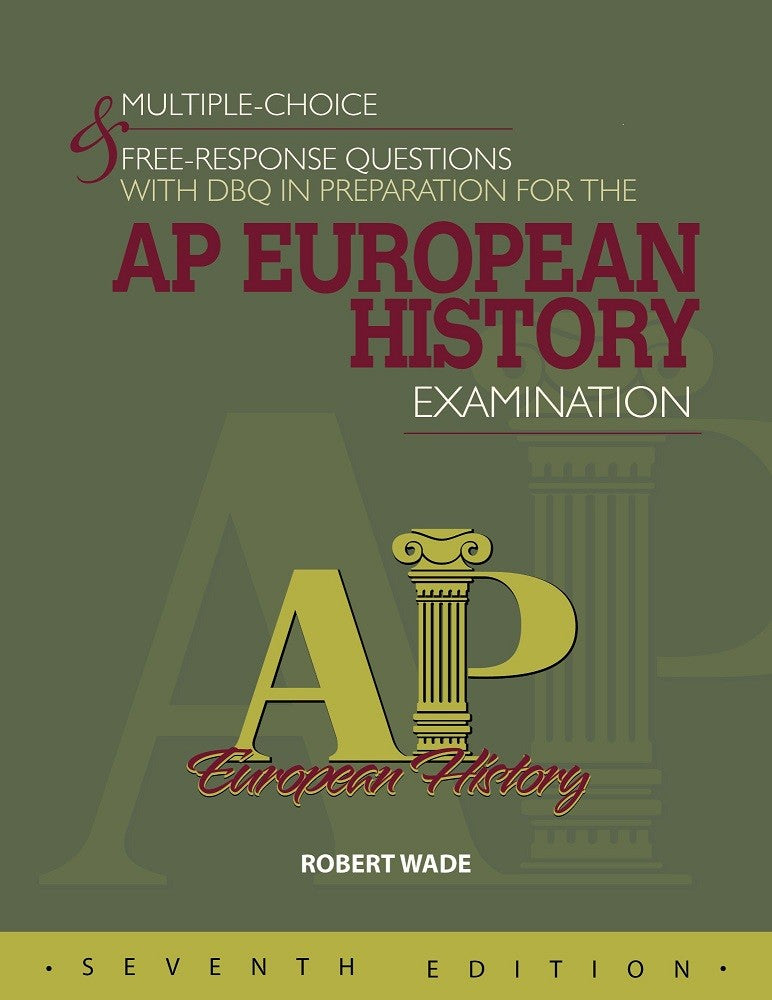 More Info

The 7th edition has been completely rewritten to prepare students for the new examination in European History scheduled to be administered for the first time in May 2020 (obviously Covid-19 pushed that back to May 2021.) It contains over 200 multiple choice questions based on the new analytical format related to documents, images, and other historical stimuli. Each of the nine units contains 25 multiple choice questions and 2 SAQ's, There are also 2 Full Practice Tests, each containing 55 multiple choice questions, 4 SAQ's, and 3 LEQ's. The SAQ's follow the exam format of a Secondary Source question, a question with a visual, and 2 knowledge based questions. The DBQ contains both documents and an image giving students practice in preparing for these demanding new exercises. Finally, examples the 3 Long Essay questions will make students familiar with that exercise. Each review chapter is based on the material covered in the revised AP European History Course and Exam Description. Supplementary information and advice are provided to support student and teacher preparation for the new examination.

The topics covered by the review chapters are as follows:

The Renaissance and Exploration
The Age of Reformation
Absolutism and Constitutionalism
Scientific, Philosophical, and Political Developments
Conflict, Crisis, and Reaction in the Late 18th Century
Industrialization and Its Effects
19th-Century Perspectives and Political Developments
20th-Century Global Conflicts
Cold War and Contemporary Europe

Student Answer Keys for the multiple-choice questions are separately packaged. Each class order is accompanied by a FREE Teacher's Manual which provides information about the new examination and explanations for all the answers to the questions in the student books. The questions in the new 7th edition are as demanding as students will find on the actual AP European History examination. The review outline in unique and will enable your students to be better prepared. Why not give your students the edge?
Author

The author of the 7th edition is Robert Wade, an AP European History teacher and Social Studies Department Chair at John Paul II High School in Plano, Texas. Prior to coming to JP II, Mr. Wade taught at a large urban high school, Bryan Adams in Dallas for 22 years. It was there that Mr. Wade began the AP European History program. While at Bryan Adams Mr. Wade became an AP Reader and an AP Consultant for AP European History in 1999.
Testimonials

Here are some comments from your colleagues about our current 5th edition and previous 4th edition AP European History book:

"Books are great. My students have used them the past three years and have done very well, in part due to the D&S Marketing review books."
Shane Lynch / University School of Jackson, Jackson, TN "I ordered the books because of the multiple choice questions and the practice tests. They are excellent."
Marvin Ellis / Lamp HS, Montgomery, AL "Simple to use – student friendly!"
Ivy Mundle / Ardmore HS, Ardmore, OK "Great quality in AP-style questions."
David Wreesman / Grace Brethren HS, Simi Valley, CA
10 BOOKS MINIMUM
SKU: ISBN #: 1-934780-66-9
| Quantity | Price per book |
| --- | --- |
| 10 - 15 books | $19.95 |
| 16 - 25 books | $18.95 |
| 26 - 50 books | $17.95 |
| over 50 books | $16.95 |
| Quantity | Price per book |
| --- | --- |
| 10 - 50 e-books | $15.50 |
| over 50 ebooks | $14.50 |
ALL E-BOOKS PURCHASED CAN BE VIEWED FOR ONE (1) YEAR FROM THE DATE THE E-BOOK ACCESS CODES ARE ACTIVATED
If you plan to use a purchase order and need an order form, please click here
View full details